WORK WITH THE COSMOS
I'm a trend setter, an adventurer, a coffee lover and a photographer! I love experiments and personal projects. Finding new perspectives and breathing in new life into old boring scenes is what inspires and gets me excited! If you call yourself a creative, proudly wear that title, be memorable, inspire others and always be ahead of the crowd! Be Evóra!
Let me help you to fall in love with your future!
LEARN HOW TO CHANGE YOUR THOUGHTS
LET'S MANIFEST YOUR DREAMS!
Cosmic Manifesting Program
The Beach Edition
8 September Zandvoort Beach
Work with the Cosmos
AND CONSCIOUSLY CREATE YOUR LIFE
Did you know that your beliefs, thoughts and emotions create your reality? The good news is: you can train your brain. Teach your body what your future feels like!
I developed the Work with the Cosmos Exclusive Program. A unique and magical formula backed by modern science to consciously create the life you want. It combines:
• Knowledge: quantum physics and neuroscience to understand how to manifest.
• Awareness: get to the bottom of your limiting beliefs and turn them into positive affirmations.
• Practice: a specific meditative practice. A formula to create the life you're dreaming of.
MANIFESTING PACKAGES
The Beach Edition is an exclusive Cosmic Manifesting Program on 8 September. Sign up now as seats are limited.
Hi, I'm Christine
GET TO KNOW ME
Coach, public speaker, entrepreneur and proud mother of Jack. I'm here to help women who want to take responsibility for their lives and take it to the next level.
After years of working in corporate life I concluded I wasn't happy, I was unhealthy and unsatisfied. Deep down I knew there was more to life. I became fascinated with modern science & ancient wisdom and decided to change my life.
I started playing the alchemist too, making almond milk lattes blended with adaptogens. I live by the sea with my lover and our baby. You'll find me there surfing and hosting Cosmic Beach Retreats in summer.
I'm happy now. But it was a bumpy road getting there...
Magic Moon Ritual
Sacred Women Circle
13 September, bathing in moonlight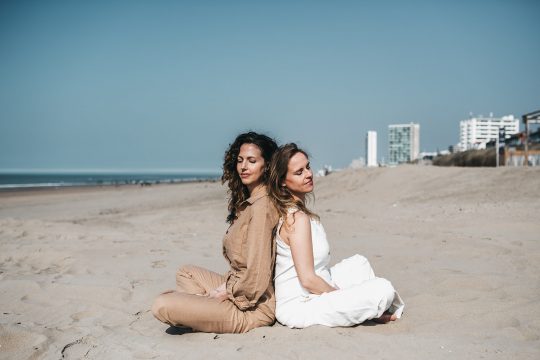 GET YOUR FREE GUIDE
Free Manifesting Mini Guide
Why wait? Become a badass manifestor now! Christine and Erica share their personal sacred rituals and practices. Download this magical mini guide and start manifesting right away!
COSMIC LOVERS
TESTIMONIAL
"I'm so thankful for my 1:1 sessions with Cosmic Life!
I've exactly learned HOW I can turn my wildest dreams into reality. It opened up my eyes. Once I knew how it works, a whole new cosmos full of infinite possibilities opened up to me."


COSMIC LOVERS
TESTIMONIAL
"Christine accompanies you in comfortable sessions to get very clear on what your dream life looks like. Together you discover why your life has been the way it was until now. Why you are not where you want to be. And what deeply imprinted beliefs lie underneath it. You life will transform and change if you do the practice she teaches you!"

"If there's anything I can recommend anyone to do, it would be these life changing sessions with Cosmic Life"
COSMIC LOVERS
TESTIMONIAL
"Just one word: Magical. I left our sessions in a higher frequency, a true sense of happiness. I've learned a specific method and have my own manifesting practice now. I know everything is possible and how I can create my own future "